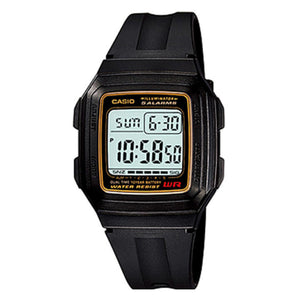 Specifications
LED light
A light-emitting diode (LED) is used to illuminate the watch face.
Second time zone
A second location time can be set and called up. Ideal if you frequently make overseas calls.
Stopwatch function - 1/100 sec. - 24 hours
Elapsed time, split time and final time are measured with 1/100-sec accuracy. The watch can measure times of up to 24 hours.
Timer - 1/1 min. - 24 hours (with automatic repeat)
For fans of precision: the countdown timers help you to remember specific or recurring events by giving off an audible signal at a preset time. They then count back automatically from the preset time. The time can be set to the nearest minute and up to 24 hours in advance. Ideal for people who need to take medicines every day or those who do interval training.
5 multi alarms
This model is equipped with 5 independent multifunctional alarms. This clock has the perfect alarm for any type of appointment. The model is equipped with a total of four repeat alarms: 1. Daily alarm, sounds at the same time each day, 2. Date alarm, e.g. to help you remember birthdays, 3. Monthly alarm, sounds on the same day at the same time each month, 4. Alarm for every day of a particular month.
Snooze feature
Each time you stop the alarm, it sounds again after a few minutes.
Automatic calendar with Date, Day and Month
Once set, the automatic calendar always displays the correct date.
12/24-hour timekeeping
Times can be displayed in either a 12-hour or 24-hour format.
Acrylic Glass
Resin case
Resin band
Synthetic resin is the ideal material for wrist straps thanks to its extremely durable and flexible properties.
Buckle
Long Battery Life
10 years, 1 battery. Newly developed electronics ensure significantly lower energy consumption.
Water resistance classification (WR) to ISO 22810
This model is water resistant to DIN 8310 / ISO 22810, and thus is resistant to minor splashing. Any greater water contact should be avoided.
Dimensions (H x W x D)
41,00mm x 34,00mm x 10,50mm
Weight
approx. 23,50 g
All our Casio General watches comes with 1 year warranty.