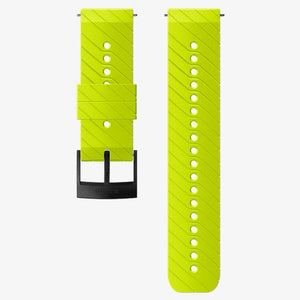 COMFORTABLE SILICONE STRAP FOR OUTDOOR SPORTS AND TRAINING
Made of durable silicone, this quick release strap is comfortable to wear and easy to change without any additional tools. The strap is easy to keep clean, provides a snug fit on wrist and it is ideal for swimming and other endurance sports.
HIGHLIGHTS
Strap width 24 mm
Strap weight 25 g
Fits wrist sizes 130-220 mm
Compatible with Suunto Spartan Sport, Spartan Sport Wrist HR/Baro, Suunto 7 and Suunto 9 watches
Designed for sports use
Water resistant

 

Can also be used with

Suunto D5

for everyday wear.