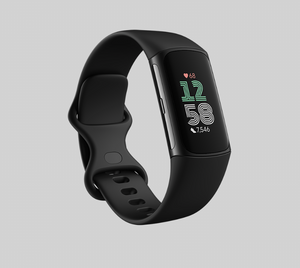 The #1 tracker. Now With Google. 
Run your day and routine with Charge 6. 
Other Available : Coral/ Champagne gold Aluminium , Porcelain/ Silver Aluminium
Move to your Beat
choose you mood with Youtube music controls and get inspire with over 40 exercise mode. Keep up you body by tracking your heart rate, steps ,distance and calories burned. Active Zone Minute tell you how much time you spend in heart rate zone.
GOOGLE ESSENTIAL Keep Your Day Moving
Find your ways seamlessly during run or rides with Turn-by-turn direction from Google Map. When you need some snake break on the go, just tap to pay with Google Wallet 
Sensors & Components
Optical heart rate monitor
3-axis accelerometer
Built-in GPS + GLONASS
Red and infrared sensors for oxygen saturation (SpO2) monitoring.
Not available in all countries. Not intended to diagnose or treat any medical condition or for any other medical purpose. Intended to help you manage your well-being and keep track of your information. Requires more frequent charging.
Device temperature sensor (skin temperature variation available in the Fitbit app).
Only available in the Fitbit app and only displays variation. Not available in all markets. Not intended for medical purposes. Significant changes in ambient temperature may negatively impact skin temperature tracking.
Vibration motor
Ambient light sensor
NFC
Multipurpose electrical sensors compatible with ECG app & EDA Scan app
Battery & Power
Battery life of up to 7 days. Use of the always-on display and SpO2 features will require more frequent charging. We recommend charging your tracker every few days to ensure you are always tracking.
Average battery life is approximate and is based on testing conducted in California in mid 2023 on pre-production hardware and software, using default settings with a median Fitbit user battery usage profile across a mix of talk, data, standby, and use of other features. Battery life depends on features enabled, usage, environment and many other factors. Use of certain features will decrease battery life. Actual battery life may be lower.
Battery type: Lithium-polymer
Charge time (0-100%): Two hours
Radio transceiver: Bluetooth
Memory
Saves 7 days of detailed motion data, minute by minute
Saves daily totals for the last 30 days
Stores heart rate data at one-second intervals during exercise tracking and at five-second intervals all other times
Water Resistance
Water resistant to 50 metres. After getting the band wet, we recommend drying the band because, as with any wearable device, it's best for your skin if the band is clean and dry.
Charge 6 is designed to comply with a water protection rating of 5 ATM under ISO standard 22810:2010 when manufactured, but it is not waterproof. Water resistance is not a permanent condition and decreases or is lost over time due to normal wear and tear, repair, disassembly or damage. Dropping your Charge 6 may result in loss of water resistance. Charge 6 is designed to be used in shallow water and should not be used for activities involving water at high velocity or high temperature. Some Charge 6 bands are not water resistant. See here for details.
Heart Rate
Like all heart rate tracking technologies, accuracy is affected by physiology, location of device and different movements.
Materials
The Charge 6 housing is made of aluminium, glass and resin. The band is made of silicone and has an aluminium buckle.
Heart Rate
Like all heart rate tracking technologies, accuracy is affected by physiology, location of device and different movements.
Dimensions
3.87cm l x 1.86cm w x 1.17cm h
Band Size
Print this guide to find the right size for you. Both small and large sizes included in box.
Small: Fits wrist 130mm - 170mm in circumference
Large: Fits wrist 170mm - 211mm in circumference