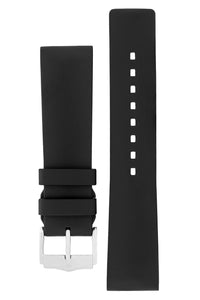 Hirsch Pure Natural Rubber Watch Strap 18mm

A simple and understated design, the Pure watch strap is made entirely from soft and supple, natural rubber, and is adorned with a high-quality Catwalk buckle that strongly complements its square, parallel stylings. The strap is also waterproof, tearproof and hypoallergenic, a true marriage of bold style and raw functionality.
*Due to the hand-made nature of these products, straps may vary slightly from those pictured.
Size:
Length 'L' is equal to 120mm/80mm
Watch End: 18mm
Buckle End: 16mm

SPECIFICATION

Material: Premium Caoutchouc (natural rubber)
Water resistance: Waterproof
Warranty: 12 months