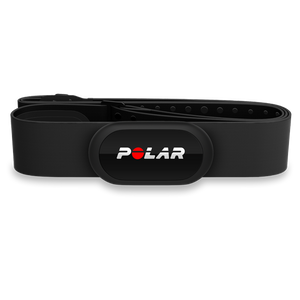 POLAR H10 HEART RATE SENSOR
When it comes to accuracy and connectivity, Polar H10 heart rate sensor is the go-to choice. Monitor your heart rate with maximum precision and connect your heart rate to a great variety of training devices with Bluetooth® and ANT+.
With Polar H10, heart rate monitoring is more accurate and adaptable than ever.
Widely recognized for its top precision by many sources, Polar H10 is the most accurate heart rate sensor in Polar's history.  
Polar H10 is compatible with top fitness apps, sports and smart watches, gym equipment and many other Bluetooth and ANT+ devices. Polar H10 can be connected to Bluetooth and ANT+ devices simultaneously.  
Built-in memory with Polar Beat 

 
Polar H10 has a built-in memory for heart rate data from one training session. The data can be transferred to Polar Beat, Polar's free fitness and training app. 
OTHER FEATURES 
The 5 kHz transmission makes sure you can monitor your heart rate even in water. 
Polar H10 keeps on improving with over-the-air software updates. 
The new Polar Pro chest strap is comfortable to wear with soft textile material, slip-preventing silicone dots and a secure buckle. 
Orthostatic test records your heart rate variability and equips you with knowledge about your recovery as well as tools to optimize your training. To take the Orthostatic test you need to pair your Polar H10 with a compatible Polar sports watch.  
SPECIFICATIONS
Memory: 

One training session 

 
Battery life:

 400 hours with Bluetooth Low Energy and 5 kHz transmission active 

 
Connector size: 

34x65x10 mm 

 
Weight:

 Connector 21 g (0.74 oz), strap 39 g (1.38 oz) 

 
Materials:

 Connector: ABS, ABS + GF, PC, Stainless steel. Strap: 38% Polyamide, 29% Polyurethane, 20% Elastane, 13% Polyester, Silicone prints. 

 
Water resistance:

 30 m (Suitable for swimming) 

 
Operating temperature: 

-10 °C to +50 °C / 14 °F to 122 °F 

 
Connectivity: 

ANT+, Bluetooth Low Energy, 5 kHz 

 
Available in sizes:

 

XS-S: 51-66 cm 

 


M-XXL: 65-93 cm